We have been comparing digital reading to reading in print for a very long time. However, in many discussions, I noticed that people did not tend to differentiate what kind of digital reading was being compared. Digital reading has become an umbrella term that could refer to online reading, reading with ebooks or even listening to audiobooks. I believe it is time to look closer at digital reading and differentiate one type of digital reading from another.
---
1. Online reading: reading on websites with either computers, laptops, tablets or mobile phones
Personally, I read on websites only for news or articles. I have never finished an entire book with my web browser although I know some people may have done that. For example, I was quite shocked when I found my roommate could finish a very long novel that was published on a fanfiction website.
For me, I found it was very difficult to stay focused when I read on websites. I tend to skim read a lot and become very easy to be distracted by anything going on the websites. Sometimes it could a pop-up ad, sometimes it could be the hyperlinks embedded in the article, sometimes I just automatically start to check my Facebook without even being aware of it. For this reason, I really want to name this type of reading "the open reading" because my mind is still open to all sorts of notifications and distractions in this reading environment.
I am not the only one. A survey found that, on Slate, a daily magazine on the web publishing about politics, business, technology, and culture, most readers scroll to about 50 percent of the article (shown by the graph below).  Well, I did have to admit, I was also one of them.

Cognitive neuroscientists had worried that our online reading habit may have negatively influenced our ability to read in print. That is, when we read in print, we would be less able to process long and complex sentences because we had become so used to read shorter sentences online.
This alerted scientists but some of them believed that there are advantages to both ways of reading and there is potential for a bi-literate brain as long as educators start to train students to read both on screen and in print properly.
I agreed and I think deep reading on screen may be achieved by extra tools such as Hypothes.is. It helped me to slow down and to go back and forth between the paragraphs to figure out the logic connections. Also, with Hypothesis turning on, I would feel like I'm seriously learning so I would consciously control my self from checking Facebook.
Overall, for the purpose of learning, I will rate reading on websites 3 out of 5 but I believe that it could be improved to 4 with training and extra tools.
---
2. Reading with an ebook reader or a specific app designed for reading
Another popular digital reading is to read with an ebook reader or with a specific app on your phone (such as the Kindle app). Personally, I often use ebook readers or an app to read an entire book. In my opinion, reading with a specific app is similar to reading with an ebook reader. They both require you to take an extra step (to buy an ebook reader or to download an app) to read! Because of this extra step, I will be more serious when I read with an ebook reader or an app.
Most ebook readers had been trying to resemble print books with its display and page-turning function. Comparing to reading on websites, there are generally fewer ads going on but if you are reading with a phone, you are still very likely to be distracted by notifications.
Another feature I like about reading this way is that I can highlight sentences I think are interesting and I will be able to go back to these notes later.
Overall, I would like to rate this type of digital reading 4 out of 5 for its convenience and its capability to hold numerous books at the same time. Despite that, I am still not a keen ebook reader because I had spent way too much time on the screen every day for my school work (and sometimes for Netflix), I am eager to do something without looking at the screen when I want to relax. Therefore, I'm going to tell you about my new hobby–listening to an audiobook!
---
3. "Reading" audiobooks
Thanks to Moorea and Avvai who highly recommended me to "read" audiobooks, I now had finished 4 audiobooks! They are mostly fictions and mostly fun read for entertainment.
Audiobooks are the best when you want to multitask. Usually, I will listen to an audiobook when I was commuting, doing chores or sometimes designing for Mauve's class (don't tell her!). That is, when I do anything that is not text-related, I would be able to listen to an audiobook at the same time.
After listening to several audiobooks, I realized that it could be a good way for ESL students to learn English. For me, I always found it really hard to learn about all of the slangs and informal way to speak because when we learn English in school, it is always based on textbooks with an academic objective (TOFEL, IELTS, SAT, etc). Those exams will never teach you how to talk casually when you just want to chat with your coworkers or friends.
In the past, I tried to watch a lot of TV shows to learn about the slangs but it was exhausting to my eyes. However, with audiobooks, it would be much more comfortable. I think anyone who wants to learn another language should try to listen to the audiobooks in that language.
However, for me, listening to an audiobook is not the best way for deep thinking. For example, if it is for Hannah's history class, I would definitely not listen to the textbook. For that scenario, I would prefer a print book.
Overall, I would rate audiobook 4.5 out of 5. This is my favourite way of digital reading so far.
---
In conclusion, I think they are all reading. I would choose the way for reading according to the circumstances or my purpose. If I am jogging, audiobook! If I want to learn about the update on technology-related news, read something online with Medium! If I need to prepare for a test, probably a print book for me. There is definitely no "pure" form of reading. Let's just READ!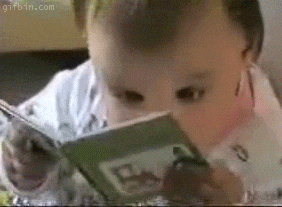 Works cited
Rosenwald, Michael. 2014, April 6. Serious reading takes a hit from online scanning and skimming, researchers say. Washington Post.
Manjoo. Farhad. 2013, June 6. You Won't Finish This Article: Why people online don't read to the end. Slate.